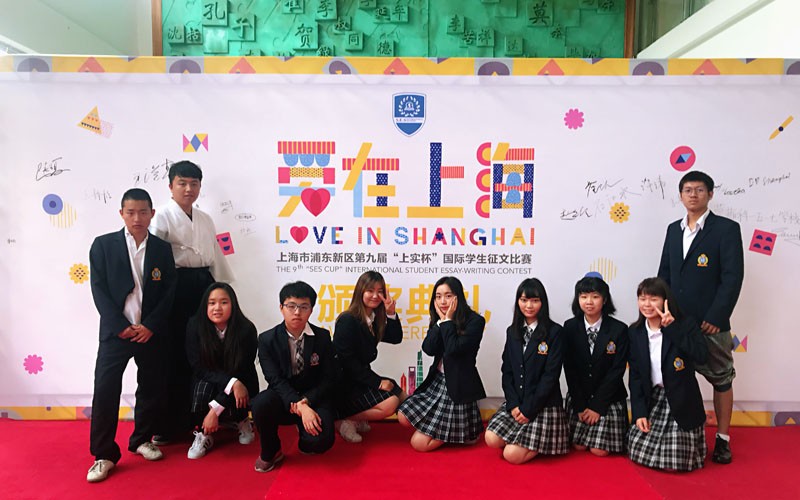 Recently, the Ninth "Shangshi Cup" International Students Chinese Writing Competition in Shanghai Pudong New Area wrapped up. In the competition, our school reaped fruitful results. Thirteen students won the praise of the judging panel with excellent literary words and real feelings. They were granted first, second and third prizes. Under the effort of every instructor, the competition marked the maximum pieces of writing, and efficient communication with the host was well maintained. Accordingly, the International Division (ID) was granted "Excellent Organizing Award".
The competition was hosted by TCFL Education Special Committee, Pudong Education Society and Pudong New Area Languages and Words Work Committee Office. Strongly supported by schools in Pudong New Area, it was aimed at fostering the passion of studying the profound Chinese language and culture and promoting the spread and exchange of fine traditional Chinese culture in international students.
The competition was themed on "I Love Shanghai". The participants of our school started from their moments in Shanghai and wrote about their lives in Shanghai from different aspects, expressing their faithful love for Shanghai. Due to the limited linguistic level and ability, some students encountered problems during their writing, but the instructors of our school always gave pertinent suggestions to help them and spared no efforts to proofread their works.
At the award ceremony, our school assigned winner representatives for attending the ceremony. Some of them were invited and performed excellent music drama and won rounds of applause from the audience.
Our school hereby would like to extend warm congratulations to the following winners and instructors! And it is looking forward to the excellent works in the next writing competition!
Name list of winners and instructors:
First prize: Gao Chenghao, Fang Zhirun and Jin Wenhui
Second prize: Liu Xi, Guang Tianyou and Tang Mengting
Third prize: Lu Shaoyu, Zhu Xiya, Zheng Yinuo, Taniguchi Momoko, Chen Yurui, Yu Haiwen and Motoike Kyoka
Instructors: Wu Dan, Zheng Jing, Wang Jun, Ge Chengcheng, Shen Qi and Chen Yanhong