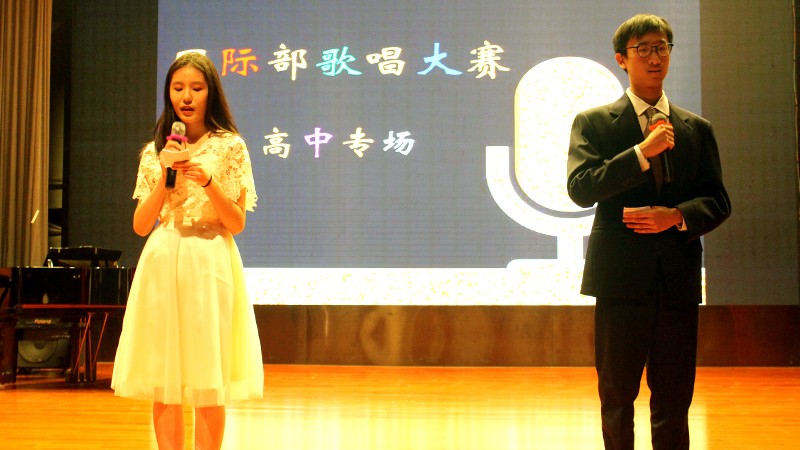 The International Division (ID) saw the annual finals of the singing contest on the afternoon of Dec. 5, 2019. Students gathered in the concert hall to experience the feast for the ears.
Three grade groups from the junior middle school entered the finals. Students performed different styles of songs, all displaying their charm.
ZHENG Jiaxin from 9B sang Oops and wowed the audience. The melodious melody reverberated in the concert hall, accompanying the smooth and natural singing, which was beloved by many students. JIA Siyue and PAN Xuying from 7B sang Edelweiss, which sent a quiet and warm atmosphere to the audience. Nagata Nishi and LIU Zijun from 9C sang Wide Road to Heaven, which recalled students' childhood memories. The forceful and sonorous voices achieved the interactive effect for the stage.
A total of 14 groups from the senior middle school entered the finals. They were all competitive groups, which made the contest more brilliant.
The first song was the chorus When You by YU Yanyi from 12A and HU Yu from 12B. Their singing skills received the recognition and praise from the audience and the audience expected the following-up contest more.
Next was the Half Moon Serenade performed by the band NAME from 10B. The guitar, bass, piano, drum set and the leading singer left a deep impression on the audience.
ZHANG Haiyang from 11B, the most talented seed player and winner of the 2nd prize last year performed You Are My Eyes. His deep and beautiful voice seized the hearts of the audience and made them cheer for him.
AN Zhiyun from Grade 11 sang 2002 and won high praise from the audience. All Japanese students from the junior high school and Grades 10 and 12 of the International Division expressed gratitude for the help and encouragement No.2 High School offered them with the song The Day When We Depart. In Japan, this song is presented to teachers and the school upon graduation. Teachers spoke highly of the song. ZHU Xiya demonstrated her superb singing skills in singing Beautiful Ghosts.
Following the low, soft songs, Run This Town performed by CHEN Weitong and WANG Jiani from 11A stirred the enthusiasm up in the audience. Their rap was also striking.
When the contest was over, students were still intoxicated with the singing and they were looking forward to the next singing contest.