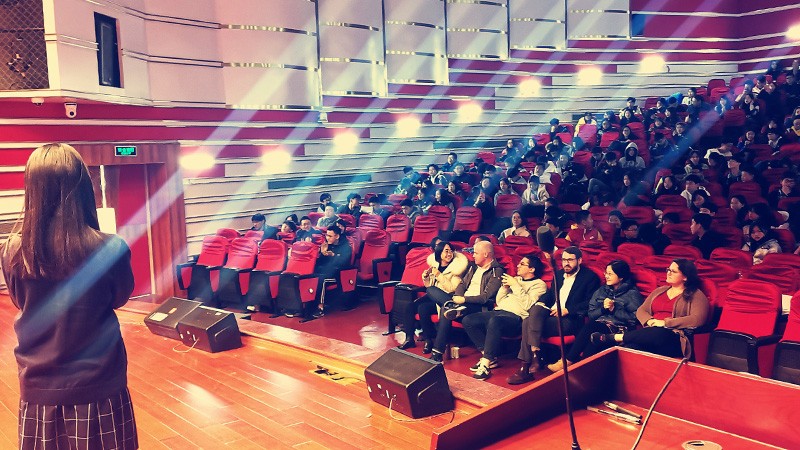 The final of the 1st English Talent Show, one series of celebrating the 20th anniversary of the International Division was successfully held in the concert hall on December 12, 2019. The event included reading, speech and dubbing.
Judging teachers of the final were LAI Yin, XUAN Jialu, Simon Desmarais, Mark Sedgley and Ann Warren.
In the English reading contest, Waka Watase from 9C won the championship thanks to the emotions and clear fluent reading. Robin Dao from 7C was of almost the same level. His passionate reading and excellent performance won him the second place. Andre Akaracharanya from 8B won the third place with the performance of We Choose To Go To The Moon by John F.Kennedy.
The following English speech contest created a wave. The five candidates from Grades 8 to 12 talked about their own growth experience and harvest in the International Division on the stage. They took solid steps on their growth road and finally displayed great vitality on the stage of the International Division. The championship was won by Michelle Zuckerberg from 10A. Her speech topic was Self-Imaging. Her eloquence and self-confidence left a deep impression on everyone. CoCo Du from 8B and Natasha Maa from 12B came second in the contest, winning cheers from the audience.
The dubbing was responded favorably among the students. The selection of Brave performed by CHEN Qianhua demonstrated a brave, kind-hearted princess with skillful bow and arrow stunts. CHEN Xueyin and XU Yitong from 10A performed Wonder, in which the audience felt the care, love and tenderness between mother and son. The audience burst into laughter in the mischievous and funny Fallon Show performed by DING Zhaoyi, SUN Zhiheng, Tuowei Sato and ZHU Zhongzhi from Grade 12. GUO Tianxin from Grade 10 tried the challenging Inside Out. He played several roles and vividly exhibited the personalities of different characters. ZI Yan and WANG Xinyi from 9A demonstrated the lively interactions between the Vampire father and daughter in the Hotel Transylvania. ZHANG Yaqiao and LIANG Xinning performed with great passion and brought back to life the conflicts between mother and daughter in Bumblebee.
Our school hereby would like to extend warm congratulations to the above winners and to the success of the first English Talent Show!