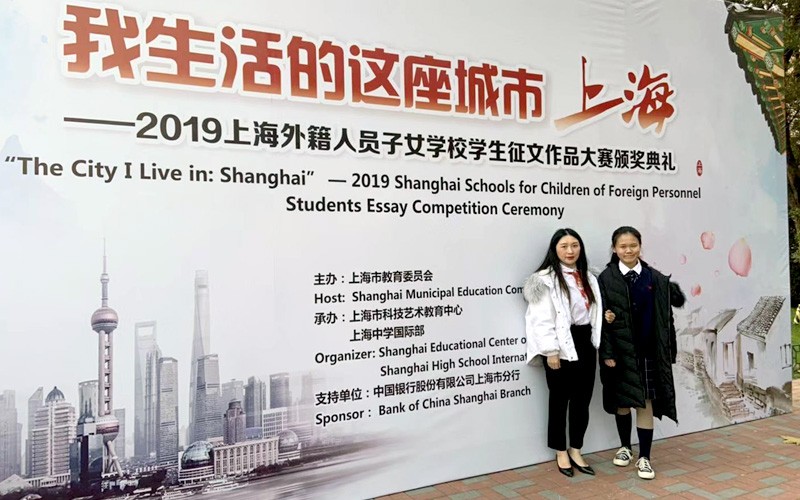 On the afternoon of December 11, 2019, "The City I Live in: Shanghai" 2019 Shanghai Schools for Children of Foreign Personnel Students Essay Competition Ceremony organized by the Shanghai Education Commission was held in the International Division of Shanghai Middle School. DONG Tianqing, a 6th grader from our school's International Division won the first prize of the junior high school group for her essay Talking about Shanghai with My Family and was invited to participate in the ceremony in the form of scene interviews.
The essay Talking about Shanghai with my family was based on DONG Tianqing's thoughts popping up throughout her writing of the essay Shanghai and the three dialogues with her grandma, father and mother, showing their different understanding of Shanghai. The judges all spoke highly of it. In the interview, DONG Tianqing starred in her character. When she interviewed her grandma (Mr. WANG Jun) on her views about Shanghai's development, she talked about Pudong in the 1980s and the earth-shaking changes. She also encouraged DONG Tianqing to study hard and contribute to the development of Shanghai.  And when asked what she likes most about Shanghai, her mother (Ms. WU Dan) answered while reading a book that she likes cultural performances in Shanghai and the Shanghai bookstore and library, hoping that her daughter would also be influenced by the art of Shanghai. The last interview was with the father (Mr. FU Zhenliang), a technology fan dedicated to the modern communications industry. The father not only talked about the rapid development of Shanghai's science and technology, but also mentioned Shanghai's cuisine map, arousing DONG Tianqing's interest in tasting.
The last program of the ceremony was a poem recitation of I love Shanghai with the participation of teachers from schools for children of foreign personnel in Shanghai. WU Dan, a teacher from the International Division of our school participated in the performance.
The essay competition for children from schools for children of foreign personnel in Shanghai aims to help foreign students improve the Chinese language level, understand Chinese culture, and get familiar with the Shanghai cultural features. The competition made great achievements and won great support from the Shanghai Education Committee.
In the essay competition, students from the International Division of our school won various awards. WANG Jun and LV Xiaojing received the award of Best Instructor, WANG Wei Best Cultural Communication and the International Division Best Organization.
Our school hereby would like to extend sincere congratulations to the winning teachers and students!