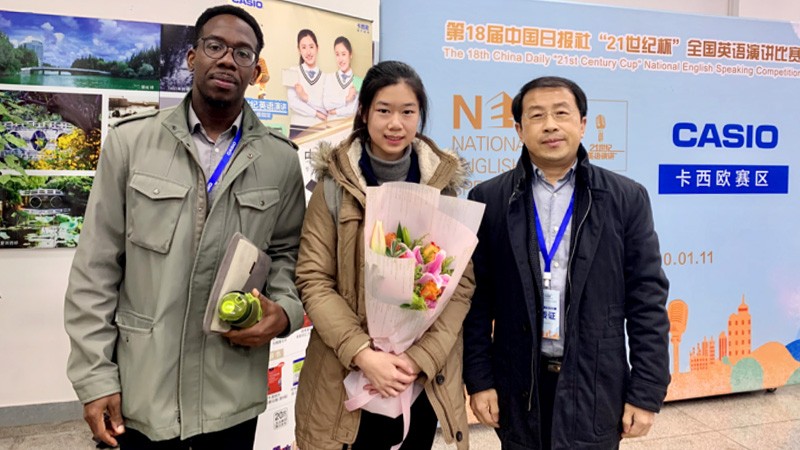 The 18th China Daily '21st Century Cup' National Public Speaking Contest – Casio Zone Final was held at East China Normal University on Jan. 11th, 2020. Totally 17 contestants from Shanghai, Hangzhou, Wuhan and Nanjing entered the Jiangsu-Zhejiang-Shanghai regional final after the previous regional competitions. After half a day of all-English speeches without manuscripts, impromptu speeches and live debates, finally the grand prize (including champion, runner-up, second runner-up), first prize, second prize and third prize came out. HU Jiayi and SHEN Wangjin from our school successfully entered the Casio Zone Final after the fierce competition of Shanghai final. HU Jiayi from Grade 11 won the grand prize and runner-up and SHEN Wangjin from Grade 10 won the third prize.
Founded by China Daily in 1996 and sponsored by 21st Century in English and LANXUM, '21st Century Cup' National Public Speaking Contest has been the sole qualification competition of International Public Speaking Competition of the English-Speaking Union in China since it was first founded.  Winners from University and High School groups take part in the competition in London to compete with contestants from more than 50 countries and areas, and Chinese contestants demonstrate the features of young students on behalf of China on the international stage. In the future, speech will become an essential skill of top students. National famous translators and hosts like LIU Xin, ZHANG Lu and SUN Ning were selected by the '21st Century Cup'. The speaking contest not only exercises courage in students, cultivates their incomparable speech ability but also helps them win recognition from universities of independent enrollment.
Our school hereby would like to extend warm congratulations to HU Jiayi, SHEN Wangjin and their coaching teachers ZHOU Nan and SUN Liu!