Led by Psychology teacher LIU Xilei, our school exchange students YAN Songzhou from Class 2 Grade 11, DING Yinghong from Class 4 Grade 11, ZHUO Yongqi from Class 8 Grade 11 and XU Fangzhong from Class 10 Grade 10 went to Milton Academy in Boston, U.S.A. during winter vacation for the exchange program from January 14 to 23, 2020. Milton Academy is one of the top private boarding high schools in the US and it began exchange research programs with our school last year.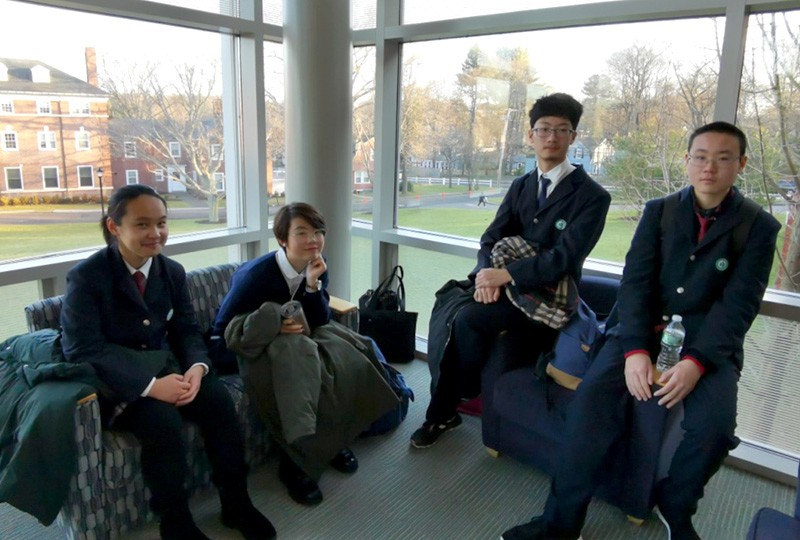 As soon as they stepped out of the airport, they were warmly received by teachers from Milton Academy. Bill, director of the Foreign Language Dept. and Chinese teacher Mr. ZHOU picked them up by car in person and when they arrived at the school, they were warmly welcomed by Principal Ball, and teachers and students of Milton Academy. They were deeply impressed with the campus without walls.  After the meeting, students went home with their home stay family and started the wonderful academic tour.
In the next nine days, they experienced warm campus life and various personalized course teaching. After class, they visited famous universities and museums in the downtown area of Boston, learning about the rich heritage of the historical city.

On the second day, after attending a speech about "Martin Luther King Day", they had an informal discussion with Dow, a teacher from the Admissions Office and thus had an overall understanding of the school. Then Mr. ZHOU and warmhearted volunteers showed them around the campus. The art museum of free originality, cutting-edge and open science museum, quiet and cozy library, star-studded gyms, warm and comfortable dormitories, home-like living environment, inspiring learning environment and beautiful campus life were all enviable to students from Shanghai. In such an atmosphere, it was hard not to love study or the school.
At noon, they were invited to have lunch at Principal Bland's home. In a white house next to the library, there lived the warm-hearted Bland couple. Ms. LIU presented the carefully prepared gifts on behalf of our school. Afterwards, they tasted specialty cuisine with the Principal. The talkative Principal Bland mentioned about the impression of the school, the difference between Chinese and American cultures and middle schools as well as what the guests wanted to know about the school and the Principal himself. In the end, he shared interesting stories of some paintings in his family. As a great Principal from kindergarten throughout to high school, Mr. Bland thought that most important of all, it is guaranteed that everything the school does is to help students develop their talents and live the way they prefer most, which Ms. LIU admired a lot. Students appreciated the Principal, who lives in school and invites students to his home!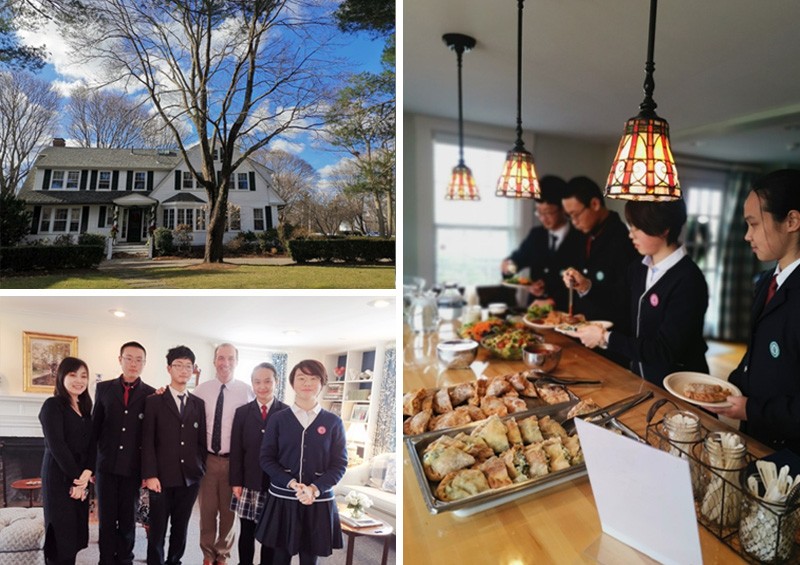 On the third day, students took courses with their pairs. Students from Milton Academy had an exclusive schedule of their own, with the courses selected according to their own characteristics, level, demands and guided by the instructor. Accordingly, students from our school took different courses. They were impressed with Mathematics and Chemistry, not to mention sports activities and autonomous communities. And Psychology teacher LIU Xilei was fortunate to communicate with a local Psychology consultant and attended a Psychology class. She found out that the two schools had many things in common in terms of students' Psychological needs, problems and reasons, tutoring system, professional concepts and approaches, as well as contents and activities of Psychology classes. Yet, Milton Academy was greater when it comes to professionalism, meticulousness and resources.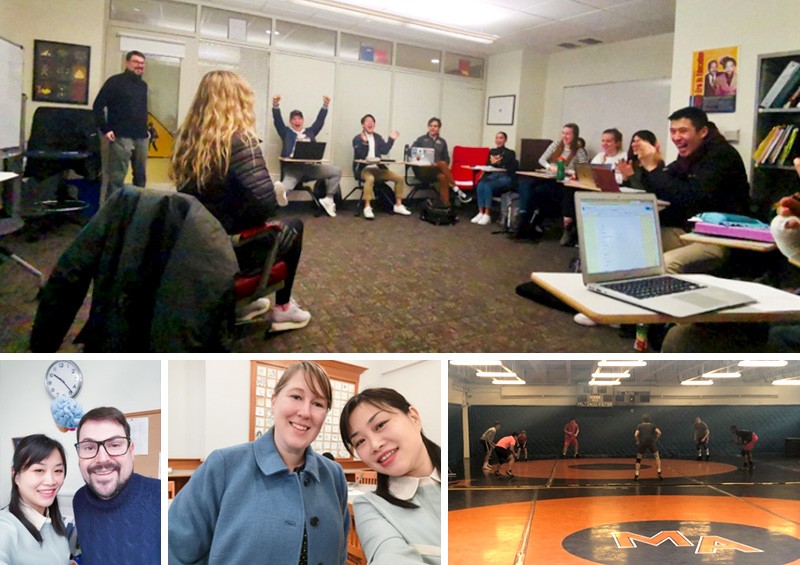 On the fourth, seventh and eighth day, they visited famous universities and museums in the downtown area of Boston guided by warm-hearted alumnus and appreciated street views and food. Guided by ZHANG Lingxian, a current student from MIT, they visited the campus, museum and robot workshop of MIT and took the characteristic course of programming-controlled robots, visited Boston city view, "free path", and Quincy Market. Besides, she also treated them with the famous "Boston lobster roll". ZHANG Jian, a current student of Harvard showed them around the Harvard campus and took a photo on the famous Harvard square. They also visited Boston University and the art museum. During the time, GU Rui, an alumnus, who graduated and began to work drove several hours to meet them. In the cold winter, they felt the sincere enthusiasm from alumni.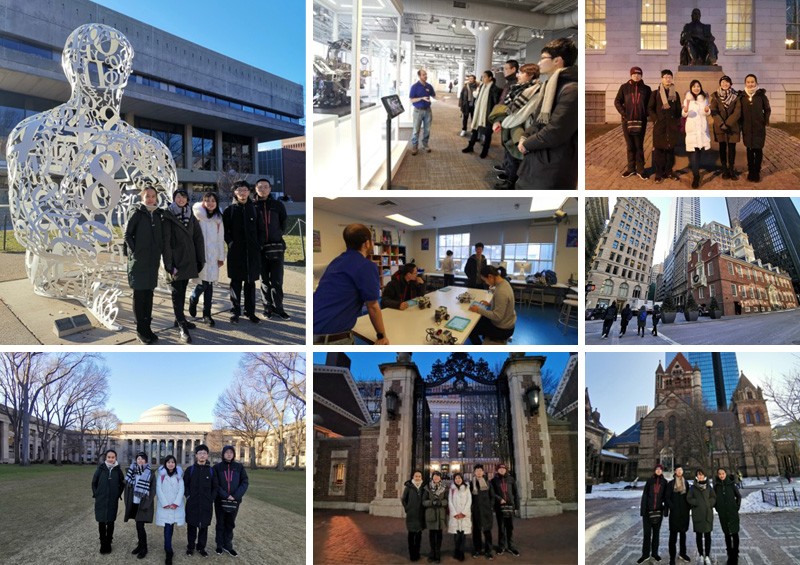 The fifth and sixth days were weekend days and they had the authentic American life with their pair families. Due to different family backgrounds, they also experienced different family cultures from a few countries such as US Boston, Italy and Pakistan. Ms. LIU and two students headed for New York to savor the feel of the world's largest metropolis, Central Station, New York Library, Metropolitan Museum of Art, Empire State Building, World Trade Center, Statue of Liberty, and Brooklyn Bridge, etc. Guided by local Chinese, they got a chance to have a direct and vivid understanding of US and NY.
On the ninth day, they had a discussion with Skinner, director of university guidance. Skinner had rich experience in and unique opinions on how to train students in senior high schools, and help them pursue further study in the direction that suits them. His "n" type plan of finding two core competences and navigating around in a wave-like manner to support a lifetime development platform of a person had substantial gains for the teacher and students from our school. He also expressed his readiness to offer students professional suggestions on further study. After the discussion, they attended a mental health lecture entitled You are wonderful just as you are. Its concept and method were consistent to the project "Life Education and Psychological Counseling" of our school. In the afternoon, they attended a pottery class that fully developed creativity and practical ability.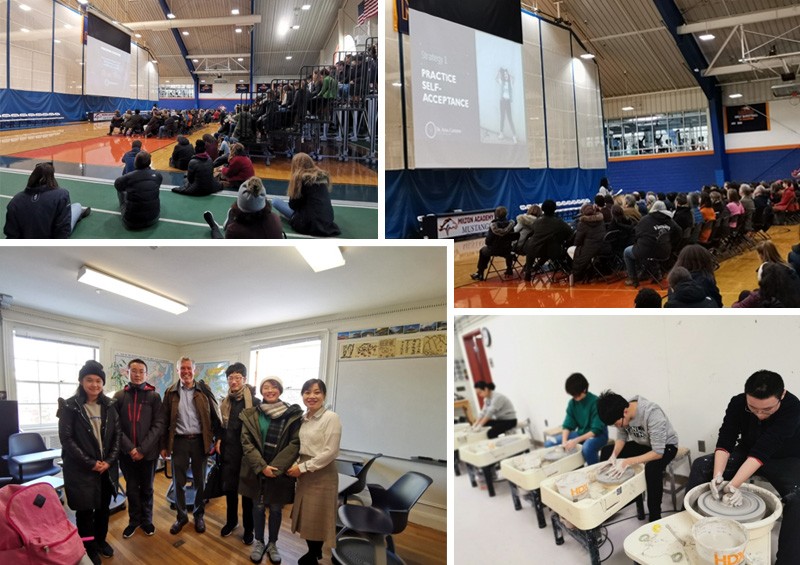 On the last day, they attended an English poetry class taught by the director of the English Dept. It was encouraging in conjunction with the explanation of local culture. Our school team concluded the discussion and exchanged thoughts with Mr. ZHOU. Exchange students appreciated and admired the school in entailing students' initiatives in course setting, PE, club activities, study and life and sparing no efforts in exploring and promoting students' personality and gift. They also realized that they should be farsighted in weighing their life and find out what is the most important, instead of being obsessed with gains and losses in exams. They sighed with deep feelings that the education supports the gift of every student and helps every student to be better!

In the short ten days, No.2 High School and Milton Academy had forged profound friendship. Students of No.2 High School learned a lot from this trip. YAN Songzhou, paired with Max said, "When I'm really in the foreign country, it is totally different from what I thought before. The difference of life in a foreign country is reflected in every detail. What I'm impressed with are the students of Milton Academy. We can easily tell that they are from different nations all over the world, which was hard to imagine before." ZHUO Yongqi, paired with Pedro and Matthew said, "I have learned many features of US during this trip. After experiencing some courses, I find out that US high schools are more like universities, offering students more freedom and options. The people are warm-hearted and hospitable, such as my home stay family. Milton Academy is not located in the downtown and, the scenery is beautiful, notably the silver campus after snow. Thanks for the chance the school gave us. When it is possible, I must visit this place again." DING Yinghong, paired with Ameen (XI Mingzhe) said, "Flying over half of the globe, we met a group of lovely people. The stereotypes between us were gradually eliminated during our conversation. Boston winter did not feel that cold thanks to the sincere hearts." XU Fangzhong, a pair student with Lorenzo said, "I really like the system of art courses. They do not require many classes, but they offer many options. In class, teachers do not make requirements. Instead, they give full play to each student's talent and guide them. They have classes in a small scale. Advantages and disadvantages both exist. When there are fewer than 10 students in class, there may not be enough ideas and thoughts. When nobody speaks, it feels embarrassed. However, small classes can cultivate students' confidence better. Of course, with fewer people on the scene, it is easier to encourage students to speak. Students from Milton Academy are active in speaking and thinking and embarrassing situations are rare."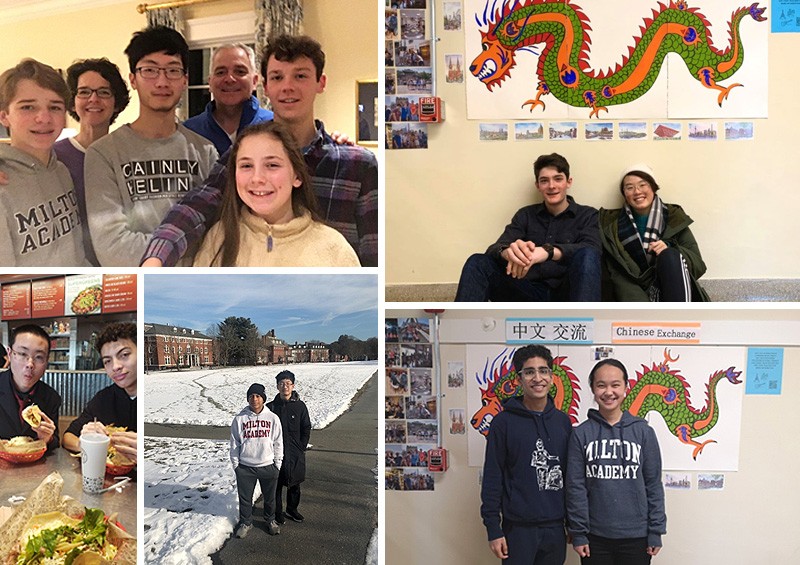 In the end, before returning to the motherland, Ms. LIU and students made cards to express their gratitude to teachers and students of Milton Academy for their hospitality and care and they looked forward to Milton's visit to our school!