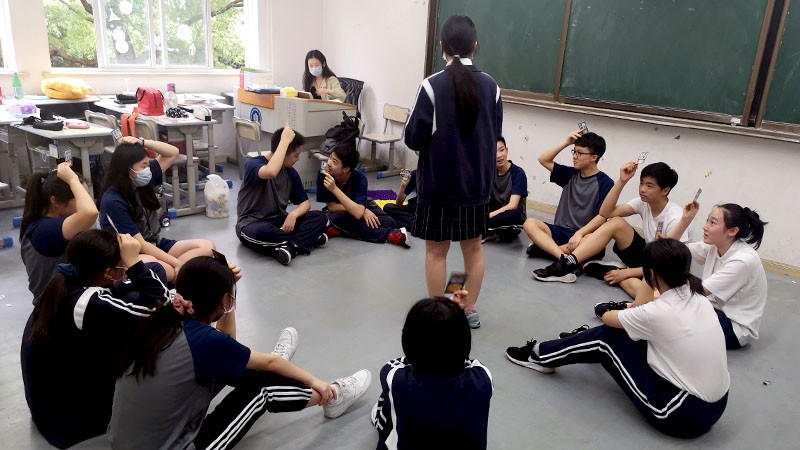 After returning to school on May 18, students settled into school life smoothly while combatting the COVID -19 pandemic.
It was "June 1" again! 6th to 8th graders received a special school gift from school – a handbag printed with the words "Happy Children's Day from the International Division of No. 2 High School", which was packed with masks, healthy drinks, and carefully prepared food. The aircraft cartoon pattern was symbolic of blessings and expectations from the school for students and the school also hopes that students will maintain sincerity of childhood and loveliness and let their colorful dreams fly.
Due to the coronavirus impact, it was not suitable to hold large-scale gatherings, and each class arranged their own class programs.
The sixth graders held the "June 1" lucky draw activity by class. Each class teacher made full preparations in advance, making the lucky draw PPT, preparing the lucky draw gift, making the lottery note.  When various prizes appeared in front of the children, everyone was full of anticipation for stationery combination, snack gift bag, chocolates, original English books, or red envelopes in cash.  What captured curiosity most was the question who would draw the "ultimate gift" — a set of Mathematics tests! As the lottery cards on the big screen were clicked open one by one, each prize found its owner, and children were happy with the gifts. When the "ultimate prize" was announced, students burst into deafening laughter. Facing the ultimate prize winner's helpless expression, the class teacher immediately sent a comfort package with various snacks in it, allowing the winner to experience the happy surprise of 'turning around suddenly'!
7th and 8th graders also celebrated Children's Day.  Class 7C students received personalized Children's Day gifts, and the class committee arranged a "behind the painting" game, in which students tried their best to pass their feelings of painting to the next student. The photos were sincerely precious, with everyone wearing the protective masks throughout activities. Class 8C students played the game of you draw I guess and guess the words according to the prompt, allowing every student to display themselves. Those who guessed right and those who drew all had the opportunity to draw their favorite stationery gifts. They were reluctant to end the last Children's Day game for them even when class was over.