Student Union of the International Division of No. 2 High School of East China Normal University held the event of recruiting new members from grades 6 and 10 at the concert hall on September 17, 2021.
The Union has 6 departments – Academic Study Department, Sports Department, Literature and Art Department, Societies & Clubs Department, Campus Life Department and Publicity Department. Each department has one Director, one Deputy Director and a few assistants. Recruitment of new members in September each year aims mainly at newcomers for the position of the assistant to directors. Now let us review the wonderful event that just took place!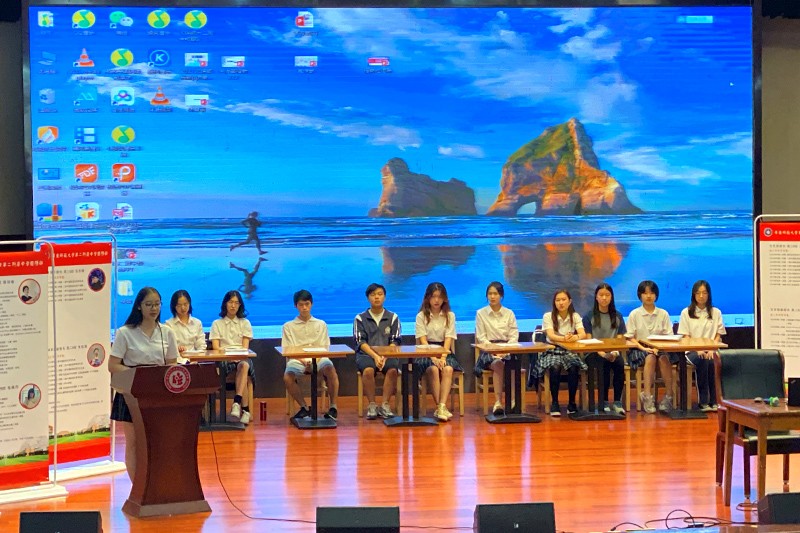 The opening was presided over by CHEN Xueyin, President of the Student Union with an introduction to the simple rules, allowing the audience to have a better understanding of the whole process.
After that, Directors from each department came onto the stage and gave recruitment speeches. Each Director made a detailed introduction to the department members, roles and responsibilities, objectives of the department, previous events and new plans of the semester. The humorous cross talk by CAI Xiangya and ZHANG Yaqiao, Director and Deputy Director of the Academic Study Department made a good beginning.  The calm and steady speech by SHE Jiekai, Director of the Sports Department demonstrated to everyone the sportsmanship. WANG Jiasheng, Director of the Literature and Art Department won high praise with his dominant speech and fun plans of various events. MA Jialu, Director of the Societies & Clubs Department of "Green Code" made the atmosphere more active in a fun and humorous way. LIANG Zhijing and CHEN Jiayi, the nice and gentle Director and Deputy Director of the Campus Life Department conveyed the beauty and care of the Department with a lovely ppt. LI Sinan, Director of the Publicity Department fully introduced about the jobs and benefits in a relaxing and gentle way.
After the introduction speeches, candidates approached Directors for the application form. The specific interview time and location were written on each application form and the Student Union expected candidates to participate in the interview!
The recruitment ended successfully. The big family of the Student Union of the International Division is gradually growing, and hopefully there will be more effective measures for the autonomous management by the Student Union.  The Student Union is looking forward to supervision and assistance!