"As the bright moon shines over the sea, from far away you share this moment with me", "Will live long as he can, though miles apart, we'll share the beauty she displays", these well-known classic verses are not only the inner monologue for ancient Chinese talents to express emotions through the full moon on the Mid-Autumn Festival, but also the common voice of students at home and abroad in the current pandemic.
The overseas students of the International Division and online students stranded in other countries gathered to celebrate the traditional Chinese festival, the Mid-Autumn Festival this year. The celebration mainly consisted of two parts – Mid Autumn Festival recreational activities and Mid-Autumn Festival themed calligraphy competition.
Colorful lanterns hung on both sides of the corridor of the teaching building and riddles fluttering in the wind attracted everyone's attention. Students were in high spirits, chanting or thinking, with looks on the face sometimes solemn, other times smily, competing to figure out the mysteries behind the lines of magical Chinese characters.
Pitch-pot and ferrule are traditional games ancient people played to celebrate the Mid-Autumn Festival. However, they were novel and interesting for the young overseas students.  At one corner of the classroom, the students seemed eager to try with the explanation and the leadership of the Chinese teacher, and they became "little masters" in entertainment after a few rounds of the games.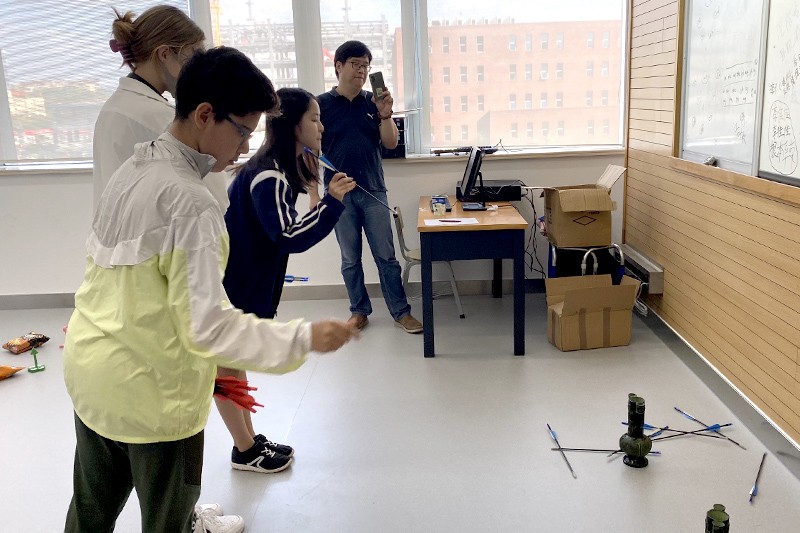 The online students were not idle while the students present at school were having fun. They watched the video about the culture behind Mid-Autumn Festival with great interest and felt the joy in the entertainment activities through live phone broadcast by the Chinese teachers. The long-lost faces and loud cheers immersed the teachers and students present in the happiness of meeting them again after long separation.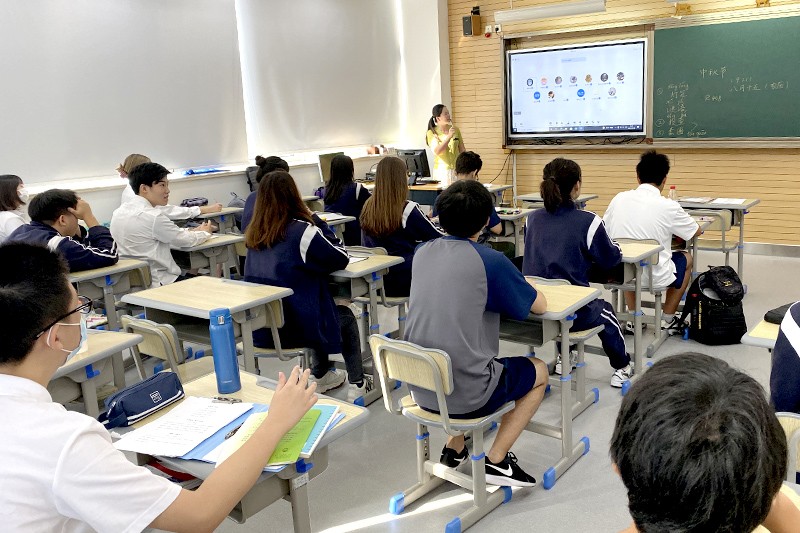 The hard pen calligraphy competition themed Mid-Autumn Festival kicked off with the ringing of the bell. The students sat at the desk writing carefully while reading poems with appreciation in the bright classroom. The screen was crowded with online students.  They had the writing supplies prepared, which displayed on the big screen in front of the stage.  Everyone began to write when the teacher gave the order.  This was a calligraphy competition linked online and participated by students at home and abroad.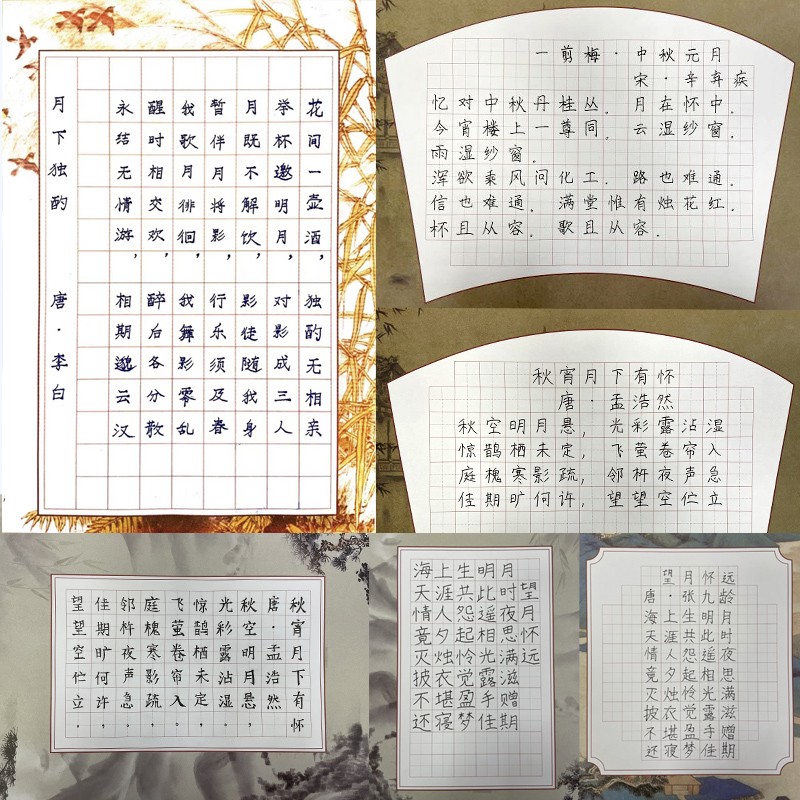 As the saying goes, the full moon shines in ancient and modern times, and home and abroad are connected by good sentences heard. Let us make a wish to the full moon at the Mid-Autumn Festival.  We hope that the pandemic will be over and that online students will return to school as soon as possible! We look forward to the day when we meet again on the beautiful campus of No.2 High School of East China Normal University!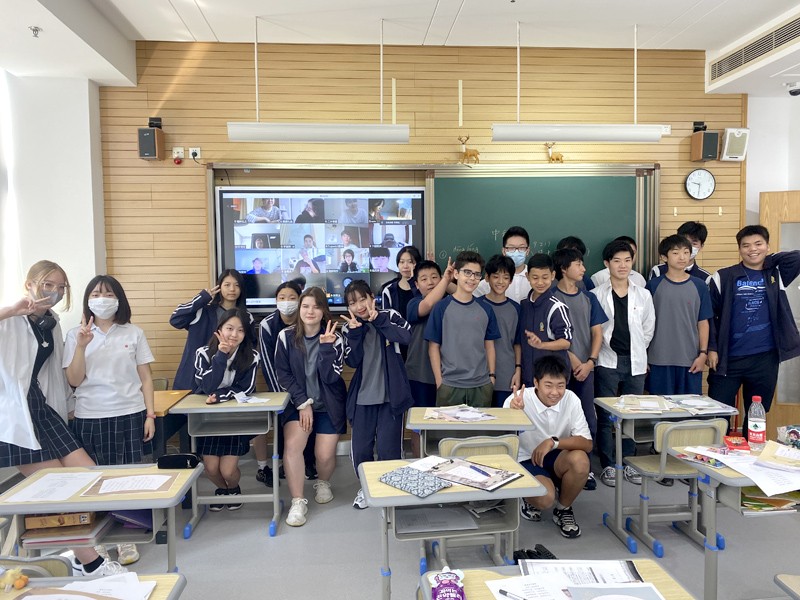 Award results of calligraphy competition of the 2021 International Division language students
3 First Prizes
Drinking Alone under the Moon by Aoyama Mio
With Emotions under the Moon at Autumn Night by Chen Qianzhi
A Spray of Plum Blossoms, The First Moon in Mid-Autumn Festival by Li Hua
6 Second Prizes
Looking at the Moon and Cherishing Far Away by Dixin Heshu
Looking at the Moon and Cherishing Far Away by Li Lingxiao
Looking at the Moon and Cherishing Far Away by Mayue Lixu
With Emotions under the Moon at Autumn Night by Li Zhuyong
With Emotions under the Moon at Autumn Night by Ermu Youxiang
Drinking Alone under the Moon by Kurihara Reika
9 Third Prizes
With Emotions under the Moon at Autumn Night by Kim Hyun Joon
Drinking Alone under the Moon by Aoyama Tsubaki
Looking at the Moon and Cherishing Far Away by Yushan Hangxi
With Emotions under the Moon at Autumn Night by De Fuxin
Looking at the Moon and Cherishing Far Away by Li Dongze
With Emotions under the Moon at Autumn Night by Ogawa Kenya
Prelude to Water Melody, How Long Will the Full Moon Appear by Shimoda Hualong
With Emotions under the Moon at Autumn Night by Fulin Hiroyuki
With Emotions under the Moon at Autumn Night by Ali
17 Excellence Award winners
Li Anfu, Zang Zijie, Piao Shuling, Zhao Yuanyu, Miyazaki Koya, Xuan Shangquan, Li Ronghua, Li Anke, Tsutsui Daxiang,
An Xinyan, Ito Reo, Li Jixiang, Chen Hua, Kim Mincheng, Yu Chengye, Elizabeth, and Yu Ruofei