No.2 High School of East China Normal University (ECNU) is among the first batch of pioneer schools adopting international curriculum, authorized by the Shanghai Municipal Education Commission. Adhering to the educational philosophy of "Pursuit of Excellence", the school shoulders the responsibilities of building a world-class high school and cultivating top-notch innovative talents for the future with Chinese core values and international competitiveness, and meanwhile it constructs a highly selective curriculum system mingling Chinese and western elements, trains up a team of high-quality teachers with international vision and in pursuit of excellence, and provides students with a diversified platform for development.
It was again the season when the flower of Hall Crabapple was in full bloom on campus, and along with it was the annual application season for overseas universities coming to an end.  Year-2022 graduates of No.2 High School of ECNU kept on displaying perseverance and courage throughout application against countless variables and troubles caused by the pandemic that had been lasting over two years.  It's believed that whatever the result is, the graduates will continue to be independent and excellent and to transcend and surpass for further education with no regrets at all.
U.S. universities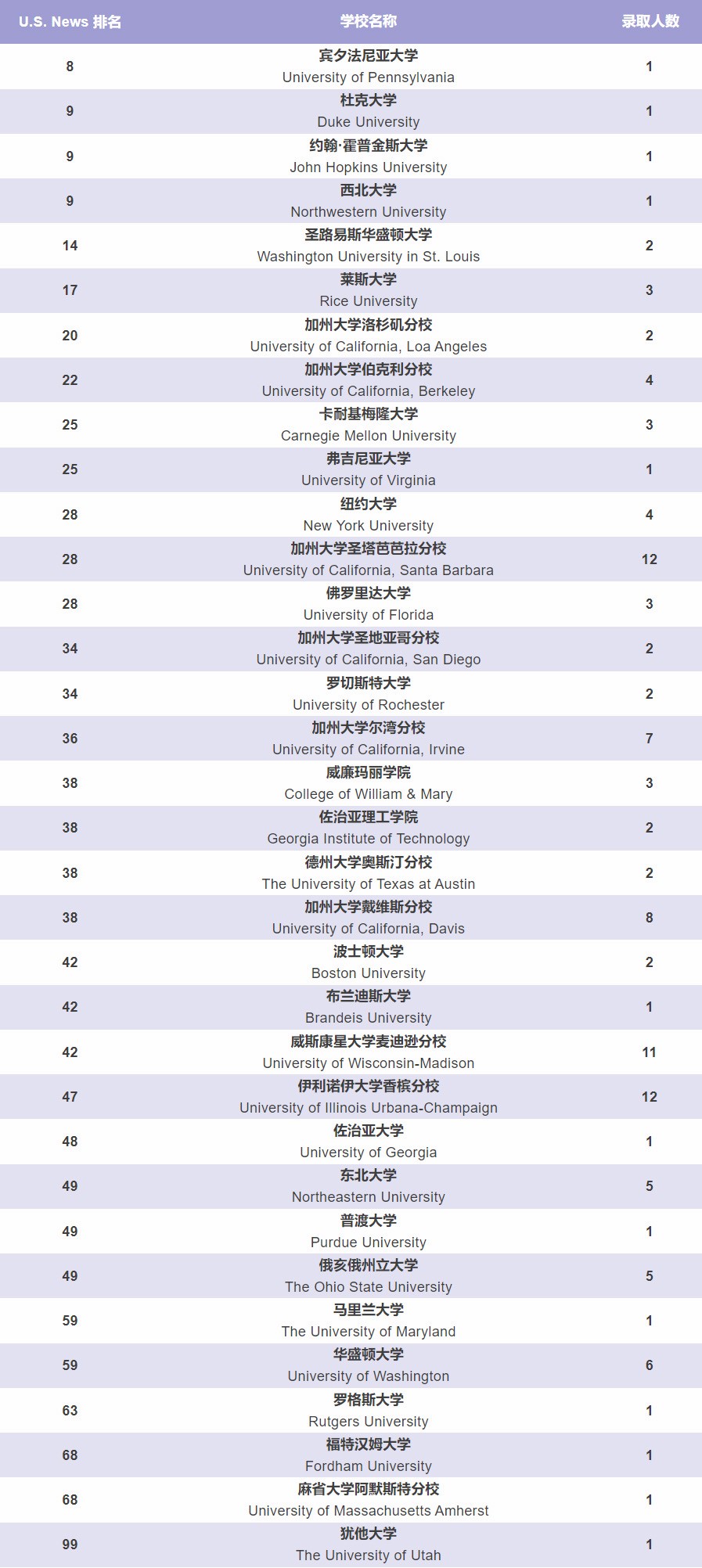 U.s. liberal arts colleges
UK higher education institutions
 U.S. art colleges

Canadian universities
Other institutions of higher learning
A total of 42 year-2022 graduates from International Course Class of No.2 High School of East China Normal University (Zhangjiang Campus) chose to go for higher education overseas. 180 enrollment notices from top universities overseas were received by April 15. More than 80% of the students received the enrollment notice from top 30 universities or top 20 liberal arts Colleges in the United States or G5 colleges in the United Kingdom, including the University of Pennsylvania, Duke University, Johns Hopkins University, Northwestern University, Rice University, Carnegie Mellon University, University of California, Berkeley, University of California, Loa Angeles, New York University, Wellesley College, University of Cambridge, Imperial College London, and London School of Economics and Political Science. There were also enrollment notices from the University of Toronto in Canada, McGill University, the University of British Columbia, the Hong Kong University of Science and Technology, and Waseda University in Japan.
The three-year high school life is coming to an end, and the graduates will go their own way, step into a new stage of life and meet new challenges. The school hopes that they will break through brambles and thorns, and climb up to the peak of life!